Catching up bullets

My mom is here. Along with taking care of the kids, she's done laundry, cleaned the house, and played with the kitten instead of keeping him locked up in his laundry room jail. I heart my mom…



She hasn't done any cooking tho. Which is disappointing. But I don't blame her…she spends her life back home waiting hand and foot on my dad and brother. I don't blame her for taking a break. And hey, she did my laundry...



I've had a cold for a week and a half. The sinus congestion is gone, but I still wake up every morning hacking like a smoker. Charming.



I have a painful zit the size of a damn mountain on my chin. Well, just below my mouth actually. I've been applying tea tree oil a few times a day since Tuesday and it seems to be going down.



Iain is TALKING. Yesterday he was whining and being annoying and I told him I didn't know what was wrong and could he tell me what he wanted? "Bottle daddy?" OK, so he got my name wrong (EVERYONE is daddy lately), but he told me he wanted a bottle. I love it!



He also tells us when he's stinky and hungry. And we know when he's done something he's not supposed to 'cuz we hear him yelling "Iain! No!" from wherever he is.



Since I know I'm going to be off for six weeks starting in December, I have NO desire to be working. I'm not really caught up, but hey, I figure I have next week to do that…



On the being home note, I've decided not to amend my income averaging application. It would make each paycheque that much less for the next year. Instead, I'll just take another week of vacation. As Jon pointed out, I already have 12 days banked and 15 more coming to me in April. He only gets 15 days and we tend to take our vacation days together. So I'd may as well use it!



And I can only assume the the surgery went on Tuesday. I told Gail to call me if it was cancelled again and I haven't heard from her. So I guess that means she's in pain and jacked up on morphine right now.



I'm going to a liquid lunch
today at one of my favorite pubs
. Should be fun. Its been a while since I've done one of those, so I hope I make it out alive.



People are leaving the branch in large numbers lately. I don't blame them one bit…in a way I just wish I could get out. But in another way, I'm cautiously optimistic (I KNOW! So not like me…) that our program might get funding and I'd like to stick around to see what happens.



I'm almost done my Christmas shopping! All I have left is stocking stuffers, really. I'm the best mom ever and I'm getting the boys personalized beanbag chairs! So cute.



But its been impossible to find a decent ride-on toy. I wanted to get one for the I-man so he'd stop stealing Cael's, but all of the ones I've found are either insanely commercial (Dora, Diego, Disney crap) or too big/small. Cael's
is the perfect size and converts to a scooter (!!!), but I don't think I want to get the exact same one for Iain. So I gave up and bought him his own beanbag. And the new cover for Cael's current bag. I guess in the spring we'll get Cael a trike and Iain will get yet another of his brother's hand-me-down toys...



I'm no-where near ready to send out Xmas cards. All of my supplies have arrived (yes, I leave things to the last minute. So?) and I'll get on it after my mom goes home.



As mentioned in bullet #1, the "big little kitten" (Cael's words) is still in residence. He's ADORABLE. But a little devil. He's bored stupid and is getting aggressive. I think he's about 12 weeks now, so its almost time for his snip-snip too, which could be part of the aggression. I've been letting him out to wander the house some, which drives the cats crazy, but he's become much calmer since I started doing that. He basically ignores the cats and plays with their toys. Too funny...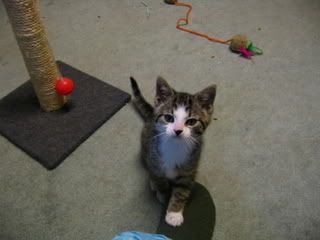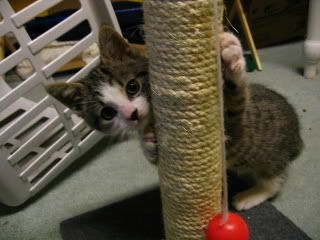 I do have a home lined up, but not until January as the guy is away for work right now and is going home for two weeks holidays in December. Its not ideal keeping him in the laundry room, but at least he has somewhere permanent to go very soon.



Did I mention I don't feel like working? Oh yah, I did… An hour and a half 'til beer lunch…