It must be Fall...
Because all of a sudden I'm busy at work and I have a kitten in my laundry room. Yep, that's right.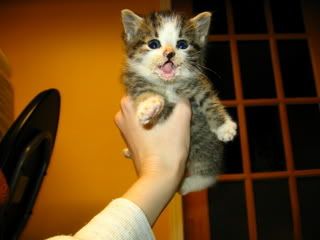 I'm a sucker, what can I say. I've seen a black and white cat around all summer. She looked young to me…under a year for sure. She looked pretty good tho, so although I felt guilty, I didn't do anything. Fastforward to last Saturday. I was sitting in the living room crocheting while the kids were napping and I heard a high pitched noise that sounded like a kitten. I turned and looked outside and lo and behold, a tiny kitten trying desperately to follow the black and white cat. It was barely walking, soaking wet (it was raining that day) and crying. Without even thinking, I rushed out. The kitten came towards me, but the mom grabbed it and took off. I was in tears…why are people so stupid and don't take animal ownership seriously? But anyway…that's another post for another day…

That minute, I started putting wet food out morning and night. Every time I checked, it would be gone. My big master plan was to get the mom cat comfortable with me and used to eating chez moi, and hopefully she'd bring her kitten(s) to eat too. Then I'd catch them. Sounds simple, right? Riiiight.

Last night at dinner time, there was a knock at the door. Jon answered…it was the neighbour's 23ish year-old son and he was asking if the black and white cat was ours. Jon said no…then I heard the meowing. The neighbour had found the kitten wandering around in their backyard and he was standing at our front door (knowing I'm a cat lady and that I'm a total sucker…) cradling and rocking this tiny tabby. Then I told Jon that I'd been feeding mama and had already been talking to rescue groups about sending her and any kittens to foster homes if I could catch them. He just shook his head…I've done it again. So of course I take the kitten, tho the neighbour was reluctant. He had never had a cat…only dogs. In five short minutes, this little kitten had captured his heart. But there is no way his dad would let him have a cat. But at least he offered to help me get the mom cat if/when I was ready.

So. I busied myself getting it settled in the laundry room. A couple of shallow boxes with blankets, a stuffed animal (nope, I have no clue what I'm doing…I thought it might be lonely), and a pan with a little kitty litter. I warmed up some of the highest fat wet food I had and he ( I think it's a he…) scarfed it down. Poor little thing...

I called my cat sitter and told her what happened…she immediately brought me some milk replacement and a syringe for feeding squirrels. Its not ideal, but it did the trick. I'm going today to see if I can get a proper bottle and nipple. I know that it can probably wean since its eating food, but I figure any extra calories would be good since it IS pretty skinny.

AND just a few minutes ago I found out that I might have a home for this little guy as well as the mom if I can catch her. Its at a farm, which I know to some isn't ideal, but I know these people and they have a nice heated barn and nice fat cats living there catching mice and lazing in the hay. So I'll hang onto him and work on getting the mom semi tame so she will eventually eat the food in the trap and I'll catch her.

But in the meantime, this little guy will need pretty much constant care and I don't want to dump it on the sitter, who comes in twice a day to give Newton his insulin. I want to make sure its getting enough to eat…I don't think its eating enough right now. So that means I will probably have to bring it with us to the cottage this weekend. Along with a full house of people, PLUS my SIL's cat and dog. Where the fireplacing hell am I going to put a kitten?? There are no extra rooms with the whole gang up there. I could create a space in the basement, but it can get pretty cold down there. And the other cat and dog could get into the space…if this kitten is sick, I don't think it's a good idea to be mixing it with well animals. Any ideas are welcome…I don't know what to do.

Now, a little history. This isn't the first time I've taken in a stray who was wandering in my backyard. I guess about four years ago this fall, there was a tabby, who I estimated to be maybe 10 months old, who would come and lay in the sun on the deck until we made a noise, when she would take off. She seemed semi tame…when I came outside she would run away, but stand at a distance and meow. I started feeding her, and within a week she would let me touch her while she ate. Soon after, I was able to pick her up, even though she was very jumpy and would scramble to get down if she heard a noise. So I took her in and kept her in a room in the basement (we've renovated since…that room isn't there anymore) for a couple of weeks.

Our cats knew she was there…I did all of the things you should do when introducing a new cat to existing cats. They all seemed curious, but not aggressive towards one another. So eventually I let her out of the room and she made her way up to where the cats were. They watched her, but ignored her at the same time. But within a minute of being upstairs, she attacked Newton. I guess she was just used to having to fend for herself. I decided right away that I couldn't do that to my cats, so I was able to find a home for her pretty quickly where she will be an only cat. That was my first experience with cat rescue. How many more will there be? ;)

~~~~~~~~~~~~~~
In other news, alien spiders have been plotting to overthrow SH and his government ever since the ill-fated election in January…and They have arrived. *




* Not really…but I was walking past the gallery this morning and thought this picture would be really cool...